READY TO EARN SOME EXTRA INCOME?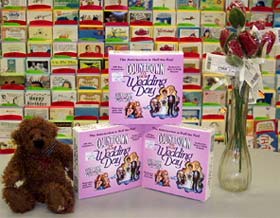 Here's your chance! Just join the Filsinger Publishing Sales Team! And it's so easy! All you have to do is go to stores in your area and offer them a chance to sell our "Countdown to the Big Day" calendars. They sell themselves! People are always looking for gifts for friends and family who are getting married and or expecting a baby! These great gifts are "recession-proof!" And you'll make a high percentage of money for each sale!
This is how it works: You'll go to stores (any stores that would sell these gift items, including gift stores, bridal stores, pharmacies...any place that sells, say greeting cards) and give them information about our "Countdown to the Big Day" calendars. We'll supply you with full-color brochures and order forms to give to the sales managers.
When a store makes an order for our calendars you'll receive $2.50 for each calendar sold. That's a higher percentage than distributors receive! So let's say you make a "standard" sale, which is 12 calendars (six "Countdown to Our Wedding Day" calendars and six "Countown to Baby's Due Date" calendars). That means we'll pay you $30.00 for your sale to that store!
Imagine if you sell the calendars to 10, 20, or 50 stores, or even sell more than 12 calendars per store! You'll make hundreds if not thousands of dollars a year for your efforts! And it's not even hard work, it's sales work you can do when you're going already going shopping or just driving around in the city you live!
WHERE CAN I LEARN MORE ABOUT THE COUNTDOWN CALENDARS?
Just go right here!
HOW DO I START?
Just contact us at the information listed below. We'll send you promotional fliers and order forms. We'll answer any questions you might have about selling our calendars. It's easy! We look forward to working with you!
MAKE AS MUCH MONEY AS YOU'RE MOTIVATED TO MAKE!
It's really that simple. If you live near a large metropolitan area that means there are hundreds of stores that will carry these fantastic gift items! Just contact us and we'll make arrangements to be business partners!
Hey, the country is in a recession. Times are tough. This is your chance to make some extra money on the side, in fact, a chance to make as much extra money as you're MOTIVATED to make! And we've got a hot recession-proof gift line for you to work with that sells itself! So contact us right away!
SALES TEAM SO FAR...
Here are some of the folks already joining our Sales Team:
Linda Andrews - Jamestown, NY
John Nocero - Cleveland, OH
Ty States - Huntingdon, PA
Look forward to hearing from you!
MAILING ADDRESS:
Filsinger Publishing
P.O. Box 3493
Jamestown, New York, 14702
"Can't wait to hear from you!"
Phone:
888-275-8178
E-Mail:
tom@filsingerpublishing.com