RETAILERS: Your customers will love this exciting new line of gift items!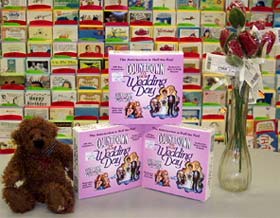 UNIT INFORMATION
The calendars are sold in multiples of 12.
Minimum order = 12
Any combination of wedding and baby calendars per order.
The calendars are sold to stores for $4.95 per calendar.
The suggested retail price is $9.95.
BASIC TERMS
The terms are pretty standard and set forth on our company order form. We'd be pleased to send you a copy by email, fax, or paper mail. Just contact us using the information listed below.
THE CALENDARS ARE SOLD IN A VARIETY OF STORES, such as...
Bay Cards and Gifts, Bayside, NY
WeddingDepot.com
Holiday Shoppe, Ellicottville, NY
Barton's Nursery & Gifts, Tuscaloosa, AL
Crosiez for Flowers and Gifts, Jamestown, NY
The Scratch Pad, Mt. Pleasant, SC
Kim-Bridge Cardtiques & Florist, Saddlebrook, NJ
Amway Grand Plaza Hotel, Grand Rapids, MI
The Personal Touch, White Plains, NY
Oakwood Southshore Med Center Gifts, Tenton, MI
Chautauqua Bookstore, Chautuaqua, NY
El Greco Baby, Jamestown, NY
Loose Change, Lebanon, VA
Viking Trader Gift Shop, Bemus Point, NY
Del's Popcorn Shop, Decatur, IL
Lakewood Apothecary, Lakewood, NY
This is a just a sample of the many different types of stores that sell our calendars. It'll be a perfect fit for YOUR store!
SALES REPS: Want to add an easy-sell impulse line to your product list?
We can work out a deal with advantages for sales reps like high commissions and exclusive territories! Contact us to discuss arrangements.
MAILING ADDRESS:
Filsinger Publishing
P.O. Box 3493
Jamestown, New York, 14702
"Can't wait to hear from you!"
Phone:
888-275-8178
E-Mail:
tom@filsingerpublishing.com